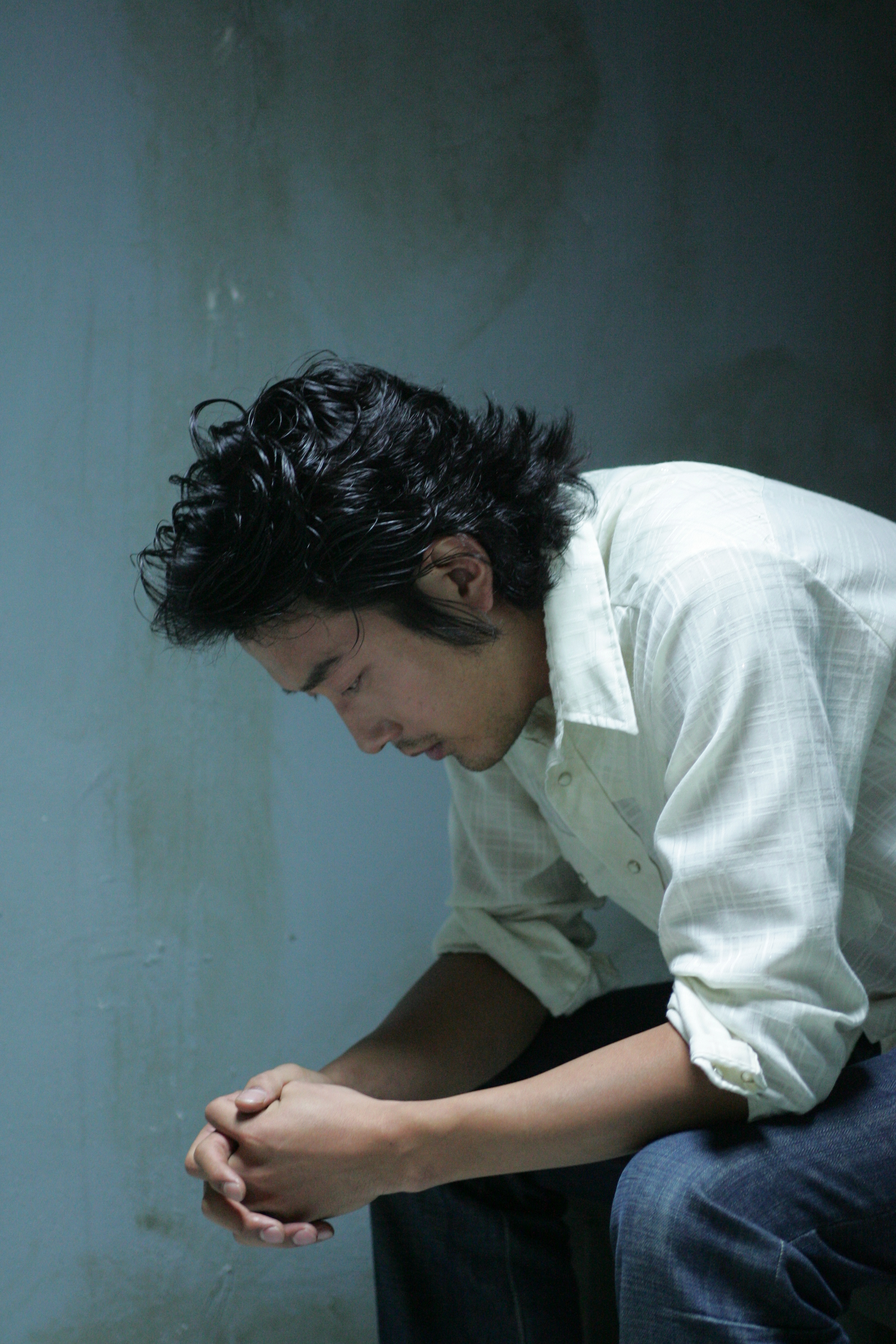 "From a small feminist device, Never Forever turns into a cry of political revolt. The softness does not exclude a frigid lucidity and gentle desperation." — Jean-François Rauger, Le Monde
"A unique, rich, and sometimes haunting film!" — Virginie Gauche, Pariscope
"Kim's highly sensitive camera turns the film into a chamber-piece of hushed eroticism and surprising narrative grip." — Justin Chang, Variety
"Gina Kim arranges every shot with calculating eye, building a step-by-step urgency. Her story is rich and her filmmaking lean and precise." — Sundance Film Festival, John Cooper

SYNOPSIS
Sophie seems to have an idyllic life; she's the perfect Caucasian housewife for Andrew, her successful Asian American husband. Their relationship is put to the test, though, when she can't concieve a child. To save her marriag,e Sophie does soemthing desperate. She initiates a bold and clandestine venture with Jihah, an illegal immigran from Korea. Sophie soon finds this new arrangement spiraling into a situation that may actually destroy what it was meant to liberate.
In Never Forever, writer/director Gina Kim arranges every shot with a calculating eye, building a step-by-step urgency. Her story is rich and her filmmaking lean and precise. Kim creates the perfect tone, right down to a climate of extreme repression where the sexual energy is nearly combustible. The insightful art direction and costume design are marvelously refined for an independent film. And Vera Farmiga's incredible performances as Sophie is a true gift. her ethereal beauty-crystal blue eyes and porcelain skin-gives her the appearnce of a rare doll, which isn't too far from the pampered exsistence she represents. As the perfect counterpart to two gifted leading men, her mastery of Sophie's gradual transformation makes Never Forever an unforgettable cinematic experience. — John Cooper, Sundance Film Festival Catalog
CAST AND CREDIT
A Prime Entertainment presentation of a Vox3 Films and Now Films production Sophie Lee Vera Farmiga Jihah Kim Jung-Woo Ha Andrew Lee David L. McInnis Produced by Joon Dong Lee, Chang Dong Lee, Andrew Fierberg Executive Producers Jong Jin Baek, Sang Han Shin Co-executive producers Steven Shainberg, Christina Weiss Lurie, Yung Guen Kang, Chul Woo Kim Co-producers Kyung Hyun Kim, Brian Bell, Steven Nam Associate producers Eun-Jung Yoo, Kelly McCormick Written and Directed by Gina Kim Camera (Technicolor) Matthew Clark Editor Pete Beaudreau Music Michael Nyman Production Designer Lucio Seixas Costume Designer Tere Duncan Sound (Dolby) Jeff Pullman, Charles Hunt Supervising Sound Editor Stephen Barden Line Producer Per Melita Assistant Director Marco Londoner Casting Heidi Levitt, Paul Schnee
104min, Color, 35mm, 2007.

REVIEWS

Variety
A woman's self-sacrifice becomes her means of self-fulfillment in Korean filmmaker Gina Kim's emotionally intense melodrama Never Forever. Vera Farmiga's fearlessly committed turn as a woman caught off-guard by her own desires and Kim's highly sensitive camera turn the film into a chamber-piece of hushed eroticism and surprising narrative grip.
A woman's self-sacrifice becomes her means of self-fulfillment in Korean filmmaker Gina Kim's emotionally intense melodrama Never Forever. Intimate love triangle flirts with risibility in some of its story particulars, but Vera Farmiga's fearlessly committed turn as a woman caught off-guard by her own desires and Kim's highly sensitive camera turn the film into a chamber-piece of hushed eroticism and surprising narrative grip. Broader in appeal than the helmer's avant-garde features "Gina Kim's Video Diary" and "Invisible Light," the film will be welcomed into further boudoirs on the fest circuit but may struggle to connect with a wider audience.
Suburban housewife Sophie (Farmiga) is married to a handsome Korean-American lawyer, Andrew (David L. McInnis). The specter hanging over the couple's otherwise happy marriage is Andrew's sterility — a state that brings him to try to kill himself, after which Sophie is driven to secretive and reckless action.
Refused as a candidate for artificial insemination, Sophie happens to notice a fellow reject at the sperm bank, a Korean immigrant named Jihah (Jung-woo Ha) who is deemed ineligible as a donor. Impulsively, she trails him back to his cramped apartment in the (unspecified) city, where she offers him a job — regular sex sessions at $300 apiece, plus an additional $30,000 if she conceives — and then mechanically disrobes before he can answer.
The less-than-satisfactory motivation behind these events — from Andrew's attempted suicide to Sophie's sudden willingness to cheat on the husband she loves — may open Kim's script to easy dismissal. Call it soap opera, but viewers willing to indulge the conceit will uncover an overriding emotional logic that stems largely from Farmiga's terse conviction, from the businesslike way she seals her clothes in a plastic bag to her refusal to meet her lover's eyes while doing the deed.
Predictably, Jihah becomes irritated and even hurt by Sophie's refusal to treat intercourse as anything more than a business transaction. But as Sophie finds herself drawn to her partner, Never Forever gets at the basic but profound truth that nothing so complicated can ever be reduced to something so simple.
At every step of the way, Kim and cinematographer Matthew Clark show a heightened perceptiveness to the contours and barriers of Sophie and Jihah's relationship — what's acceptable and what isn't — as expressed in the physicality of sex. While the love scenes are fairly frank, Kim seems less interested in titillating audiences than in exploring the precise microcalibrations of body language that distinguish a sex act from an act of love.
The seeds of upper-middle-class repression planted in the early scenes come to fruition later, as Sophie's attachment to Jihah — Andrew's antithesis in every respect except race — becomes the fulcrum for her rebellion. (Pic could well have been titled "Sophie's Choice.") Farmiga serves as a remarkable vehicle for the film's subtext, looking like a blond-haired, blue-eyed alien among her Asian-American relatives.
As Jihah, popular Korean newcomer Ha ("The Unforgiven") manages the tricky job of connecting with Farmiga in an English-language performance that requires him to stay emotionally guarded. Although McInnis' role is the least developed, the actor broods effectively as the cuckolded husband.
Tech contributions are small-scaled but accomplished. Relying almost entirely on natural lighting, Clark's fluid lensing stays tightly trained on the actors' faces, the camera at times seeming to shudder in rhythm with their bodies.
—Justin Chang (January 25, 2007)

Le Figaro
Gina Kim is a pétroleuse, a feminist who is fearless. "I love to create controversy," she says. But behind such pretensions we believe she conceals an extreme sensitivity. The proof is in the images. The South Korean filmmaker explores the feminine desire in his beautiful film, Never Forever awarded by the Jury Prize at the last American Film Festival in Deauville.
That obscure object of desire is born where it is least expected. Sophie (Vera Farmiga) and Andew (David McInnis), her Korean husband, form a chic New York couple. The only shadow on their happiness is that they are unable to have a child. Vera suffers as she sees her husband sink into depression because of their lack of children. She makes the decision to have sex with an illegal immigrant Korean (Ha Jung-woo) who she will pay for his services until Their rendezvous succeeds, the sex is cold, clinical, and mechanical. But slowly, there is a gradual shift towards pleasure. Discovery of the self and true love. At first, for Sophie, she behaves like she is making a sacrifice. She wants to save her marriage. Though in bed with a stranger in order to have a child, she images she could have no pleasure. "I am subversive in my own way, by denying, by taking apart the old model of Freudian female desire. With Vera, I created a characters who blurs the boundaries between the two stereotypes associated with women, that of the mother and the whore. Without passing judgment but just posing questions."
STRUGGLING HEROINES
The life of Gina Kim is punctuated by her comings and goings between Korea and the United States. "At 23 I left for California to study film. I returned to Seoul in order to produce two feature length films, Gina Kim's Video Diary and Invisible Light. After seeing my films, Harvard University asked me in 2004 to teach Korean cinema to its' students."
It was during one of her classes that she had the idea for Never Forever, an American-Korean co-produation, Lee Chang-dong, the filmmaker behind Secret Sunshine, was one of her producers. "I found the inspiration in re-watching the great classics of 1961 like the erotic melodrama Housemaid, by Kim Ki-young, another story of adultery, and also My Mother and her Guest by Shin Sang-ok, about a widow torn between love and duty. What touched me about these films was the struggle with the heroines to satisfy their desires." Her next American film will be in the form of a psychodrama which will once again explore "the mysteries of women."
—Translated from French, Emmanuele Frois (October 29, 2007)

New York Times
A fearless performance by Vera Farmiga, and glowing cinematography that explores the subtly shifting body language of strangers who are having sex but avoiding intimacy, partly camouflage the awkward storytelling of Gina Kim's marital melodrama Never Forever.
Throughout the film your gaze is riveted to Ms. Farmiga's stricken eyes. Blindingly blue, expressing varying shades of panic, desire and refusal to feel, they signal the desperation of a woman who is driven to solve everyone's problems at the risk of personal catastrophe. You might describe her character, Sophie, as the square version of Irene, the drug addict Ms. Farmiga played in the 2004 movie "Down to the Bone." That film catapulted her into Martin Scorsese's "Departed," in which her talents were conspicuously wasted.
Sophie is the perfectly groomed suburban wife of Andrew (David McInnis), a hard-driving Korean-American lawyer from a devoutly Christian family. Deeply depressed after tests reveal his infertility, Andrew attempts suicide. Sophie responds by visiting a fertility clinic, hoping to be inseminated. While there she observes Jihah (Ha Jung-woo), a young Korean her husband's age, being turned away from donating sperm because he is not an American citizen.
Sophie impulsively stalks Jihah and confronts him with a proposition: $300 a session for sex, with a $30,000 cash payment if she becomes pregnant. He agrees, and they begin to have secret, joyless meetings in his decrepit tenement apartment. As the camera studies this couple struggling not to bond during their loveless encounters, you feel the pain and frustration of two sensitive people denying the intimacy of their acts.
Inevitably, however, signals are picked up and passed back and forth, information leaks out, and a relationship develops. So it is with most ongoing sexual relationships, commercial or otherwise. Sooner or later business becomes personal. On the recent Sundance Channel reality series "Pleasure for Sale," the relationships between prostitutes and their regular clients at the Chicken Ranch in Nevada were almost indistinguishable from longtime caring friendships, but for the exchange of money.
Sophie, a beautiful, well-to-do Caucasian woman, is a dream girl by almost anybody's standards, and Jihah is a scruffy illegal immigrant who scrapes by with jobs at a laundry and a meatpacking company and as a mover; their relationship thus has a volatile power dynamic.
Sophie's plan is successful. She becomes pregnant and allows Andrew and his family to believe it is a miracle. But it is not a happy ending. Neither Sophie nor Jihah is prepared to abandon a late-blooming passion. Eventually Sophie's two worlds collide, and the truth comes out.
The way they collide and the consequences are the stuff of the movie's creaky plot mechanics. After reaching a cul-de-sac, the film tacks on a moony, feel-good coda that makes little sense and should have been eliminated. But while Never Forever lingers in the thick of sex, lies and anxiety, it is something to see.
—Stephen Holden (April 11, 2008)

Los Angeles Times
If Adrian Lyne directed a racy Lifetime movie, then asked Danielle Steel what to call it, you'd pretty much have Never Forever, a sudsy chamber piece that's engrossing despite its many plot holes and contrivances. The film's chief calling card is star Vera Farmiga ("Down to the Bone," "Breaking and Entering"). Her Sophie Lee is a buttoned-up suburban housewife whose inability to conceive with her sterile, Korean American lawyer husband, Andrew (David L. McInnis), drives her to commit a daring act of self-sacrifice. It's a quietly effective portrayal that uniquely balances restraint and abandon -- often at the same moment.
But it's Sophie's shame at hiring a job-juggling, Korean immigrant named Jihah (Jung-woo Ha) to secretly father the child Andrew can't -- and thereby save both her marriage and her depressed husband's life -- that truly informs Farmiga's work here. She makes the humiliation Sophie feels during her business-only liaisons with Jihah in his Lower Manhattan hovel so achingly tangible all that's missing is the scarlet "A."
Writer-director Gina Kim eventually throws in an unexpected twist that adds welcome energy to this low-key melodrama and almost makes you believe Sophie's choice is worth the journey.
—Gary Goldstein (July 20, 2008)

The Hollywood Reporter
Like "Down to the Bone," the film that first brought actress Vera Farmiga significant attention, Never Forever features a superb turn by this talented actress that is destined to be generally unseen. Giving the sort of performance that will be described as "fearless," Farmiga elevates the material of this melodramatic soaper into something nearly profound. Not that there aren't other qualities in this film written and directed by Gina Kim ("Gina Kim's Video Diary"), including powerful work by rising Korean actors Ha Jung-Woo ("Time") and David McInnis ("Typhoon") and elegant, deeply atmospheric cinematography by Mathew Clark. Farmiga stars as Sophie, a well-heeled Manhattan housewife married to Andrew (McInnis), a successful Asian-American lawyer. The couple's failure to conceive because of Andrew's infertility leaves him so depressed that he attempts suicide, with Sophie despairing that her marriage is in danger of falling apart. While visiting a fertility clinic, she spots Jihah (Jung-Woo), whose attempt at becoming a sperm donor is denied because of his lack of American citizenship. She follows him out and proposes a private arrangement: She will pay him $300 per session of anonymous sex and a substantial bonus if she winds up getting pregnant.
They soon begin a series of initially joyless, businesslike liaisons in Jihah's dilapidated tenement apartment, but by the time Sophie becomes impregnated, they discover, to their dismay, that they have fallen in love.
While the scenario strains credibility, the filmmaker's sensitive handling of the subject matter and the beautifully nuanced work by the actors give the film an unexpected emotional power. Particularly striking are the many graphic sequences depicting the gradual physical transformation of the couple's lovemaking as their feelings overtake them. And Farmiga's devastating emotionally and physically revealing performance fairly demands to be seen.
—Frank Scheck (April 18, 2008)

Le Monde
The second feature length film of the Korean ex-patriot filmmaker to the United States, Gina Kim, Never Forever is simultaneously the portrait of a woman who gradually emerges through a path of personal struggle, and a vision of the bitterness which grows as the story progresses.
A New York high society couple made up of a young woman, Sophia, and her husband of Korean origin are trying to have a child. Various failed attempts to have a child have increased the husbands' depressed state and he has already tried to commit suicide. Chance puts the woman in the presence of a young illegal immigrant from Korea who she meets in a dry cleaner's. She makes him a strange proposal. She will pay him for him to make her pregnant. Each time they have sex she will pay him until she falls pregnant.
The clandestine meetings which follow depict sex without any apparent feeling but gradually the machinery wears down and the functionality of sex gives way to something else: desire and feelings which complicate the arrangement between the two characters.
Worded like this, the development of the film seems devoid of surprises. However one guesses that the filmmaker's vision was a willful rereading of "modernity", no doubt marked by feminism and the rules of classic melodrama.
A CRUSHING SOCIAL ORDER
Acting like she did, the young woman obeyed the injunctions of the patriarchal order and the conventional by which she is a victim. Her husband's family, practicing Christians, created insidious pressure compounded by the psychological fragility of her husband.
It is relatively easy to forgive what at first guess appears to be a mechanical device built upon ideological foundations to what is actually driving the story: subtle Pointillist touches and a graceful interpretation. For Never Forever rests largely on its lead actress, Vera Farmiga, and her ability to make substantial and credible the strange progress of her character, an irresistible evolution whose intimate transformation is ultimately quite moving.
But where Never Forever succeeds is the manner in which it asserts itself within this social order of steel which tries to repress what is right. Without revealing the conclusion, it can be noted that the opposition between the sexes (male-female) and races (American-Asian) adds to the oppositions of class, an opposition which leads the story to an indecipherable epilogue. From a small feminist device, Never Forever turns into a cry of political revolt. The softness does not exclude a frigid lucidity and gentle desperation.
—Translated from French, Jean-François Rauger (October 24, 2007)

Liberation
Social chic. An American woman pays a clandestine lover to give her a child. Little by little she learns a sense of adventure.
For her first feature length film, Gina Kim, an American filmmaker of Korean origin, engages in virtuosic game of hide and go seek. It does not betray her film to reveal that it revolves around the issues of racism and social discrimination, but never ceasing to scramble these codes. With, and here's the key, an implacable constant: the rich always end up behaving like bastards, especially when they are not. Staring with the heroine of the film, played by the charming and diaphanous Vera Farmiga, who is exactly what she does not seem to be, that is a monster. A monster of selfishness, blindness and contempt.
Farmiga embodies the beautiful Sophia, the wife of a businessman of Korean origin, Andrew, who is certainly rich but sterile and on top of all violently depressed. However, the family of the young man is bigoted like a convent of Carmelites and considers it more or less the responsibility of the pour young blond woman who lies at the heart of this tormented situation. She has all that she needs, a rich husband, an apartment in Manhattan which could be a feature story in la Maison de Marie Claire, and plenty of free time in which to occupy herself, but now she lacks a child- that thing which makes a woman perfect in the eyes of all. Since this situation is one which is financially comfortable she decides to fight for the path, which she believes, is meant for her.
She finds a handsome young man, like her husband Korean but an illegal immigrant who works odd jobs to survive and send money to his family. She offers him a proposal: he must impregnate her at a price of $300 per visit and a bonus of $10,000 in the case of pregnancy.
The obscenity of the proposal is all the more striking in that it is made by a woman who believes she can save the love of her life without realizing she has struck upon the problem of the rich. The execution of the contract and the mechanics of the film are based on these embarrassing sexual encounters, and not solely for the actors. This woman, who desires nothing because she already has all ultimately finds herself in an obscure adventure and unexpected pleasure.
The sordid landscape of Chinatown, the threadbare tracksuit of her clandestine lover, desperate embraces between the dubious sheets... and finally the poverty, all these excite her in the same manner in which the bourgeois would once go slumming in such suspicious neighborhoods.
But of course, this flight of love will not last forever, instead causing severe damage. Gina Kim leaves you with the task of writing in the denouement of the story, with a final sequence of remarkable simplicity.
—Translated from French, Bruno Icher, (October 24, 2007)

Village Voice
Had Emily Watson's stranger-shtupping martyr in Breaking the Waves woken up mid-boink one day and realized, Hey, hot sex with an anonymous cock donor beats the hell out of joyless self-sacrifice, the result might have been writer-director Gina Kim's floridly plotted but acutely detailed erotic melodrama. In a worldlier (as in: of this world) variation on Watson's self-abnegating holy innocent, Vera Farmiga plays a blue-eyed wraith whose successful Korean-American husband (David L. McInnis) attempts suicide over their failure to conceive. To save her spouse (or so she believes) and deflect his devout family's withering scrutiny, she hires a dirt-poor Korean illegal (Jung-woo Ha, from Kim Ki-duk's Time) to impregnate her on the down-low, offering $300 a pop with a hefty fertility bonus. The twists required to rig the movie's romantic and emotional crises sound loony in synopsis, but Kim—a South Korean native who chronicled her tortuous American journey in Gina Kim's Video Diary—focuses so fixedly on the particulars of gesture, transaction, and body language (especially hands) that she almost hides the blatant scaffolding in plain sight. The fearless, frequently nude Farmiga conveys the awakening of passion in a spectrum of small, subtle shadings; among other virtues—including Matthew Clark's rapt camerawork—the movie has some of the hottest, most precisely modulated sex scenes since A History of Violence.
—Jim Ridley (April 8, 2008)

Elle
Sophie and Andrew, her Korean husband, form the couple without a story. They have money and have integrated totally into the elite New York society. The only snag is that they cannot have a child and this has turned into an obsession for the husband. There are moments of fervent prayer, Andrew's family is confident that God will eventually deliver them a child that they wished for. To escape Andrew's depression, Sophie secretly pursues an ultimate solution: to make love with an illegal Korean immigrant until she conceives a child. Sordidly at first, their sexual meetings in the heart of Chinatown, ultimately give way to feelings unborn. Tender and passionate gestures take over. The third film of Gina Kim, Never Forever has none of trappings of melodrama. On the contrary, it evokes with justice the notions of sacrifice and the price of awareness of one woman who for too long has lived through her husband. By making the choice to be a brave creator, she signs her own birth certificate which states "This baby is mine." This film of personal growth never falls into caricature though. Aside from the mise en scene is the admirable performance of Vera Farmiga who must be commended.
—Translated from French, Francoise Delbecq (October 22, 2007)

Pariscope
This is the portrait of a young woman of goodwill, who is faced with pressure from her husband's family, practicing Catholic;, a bourgeois idleness, an almost transparent, perfect wife with sensible clothes, who wakes up to discovers something. It is a story of classes and latent racism: the lack of solidarity between the rich husband, the practicing Catholic, and the clandestine lover of the woman, who survives with several jobs. In this first unique, rich, and sometimes haunting film of Gina Kim, emotion comes to be felt without showiness. This emotion owes much to the presence of impressive actors, especially Vera Farmiga.
—Translated from French, Virginie Gauche (October 24, 2007)

Film Critic.com
Despite a slightly stilted setup and a couple of cinema-style coincidences, Never Forever is a tight, sexy, and compelling melodrama that tackles some tough issues. It's the kind of date movie that will definitely give the two of you something to discuss over dinner.Beautiful Sophie (Vera Farmiga) is happily but claustrophobically married to Andrew (Davis McInnis), a Korean-American whose devoutly religious Korean family has kept her at arm's length. The withering looks Sophie gets from that coven of hatchet-faced crones are devastating, but she gamely tries to fit in. The problem is that Sophie and Andrew can't conceive a child, and it's his fault, an unbearable humiliation for him that has driven them to fertility clinics time and time again.Desperate to make her husband happy, especially after he tries to kill himself, Sophie asks the sperm bank to impregnate her secretly with any Korean's donation, but they won't do it without her husband's signature. How lucky, then, that she spots the handsome Korean Jihah (Jung-woo Ha) being rejected as a donor at the clinic because of his illegal immigrant status.The desperate Jihah, who works several jobs from dry cleaning delivery boy to meat cutter in order to scrape by, is willing when Sophie approaches him with an indecent proposal: $300 for each sex encounter until she gets pregnant, and then a $30,000 bonus. Meeting secretly in his shabby apartment, this most unusual affair begins.It's all business, but it's obvious that emotions will start to complicate the situation. With her huge blue eyes and blond curls (she looks like a younger, thinner Virginia Madsen), the kind and desperate Sophie is irresistible to Jihah, who even buys a new bedspread to match her eyes. And though Sophie enjoys every creature comfort in her lovely Brooklyn home, she needs to escape from her tense husband and his rosary-clutching mother and aunties.Can this arrangement possibly work out? It's unlikely given that this lopsided triangle includes an unstable and jealous husband. As Sophie's and Jihah's assignations become less business-like and more erotic (and by the way, director Gina Lee does erotic very well), the suspense is intense. Will Andrew find out? How might he find out? And what will he do if he does find out?Sophie is a misfit in her marriage, and Jihah, who tells her he left Korea because he didn't fit in there, hasn't fit into America yet either. They're two lost souls who try to cling to each other despite divisions of race, class, and even language, all of which they struggle against mightily in the short bits of time they steal together. Every scene is powerfully packed with those conflicts, and the movie races along to a very uncertain climax.Farmiga shines here; Lee's camera absolutely loves her, and there are so many extreme close-ups of her (those eyes!) that you'll feel as intimate with her as Jihah does. New York, especially Chinatown, looks great through Lee's lens, and she's a good writer too, raising all those great thematic questions: Do the ends justify the means? Who's taking advantage of whom? And does love truly conquer all?
—Don Willmott (2008)

Salon
A compelling cross-cultural love story that sneakily blends elements of Lifetime-style domestic melodrama and ambiguous art-house cinema, Gina Kim's Never Forever is one of the spring season's unlikeliest and most delectable surprises. A Korean-American director with a critic's-darling reputation, a background in feminist video art and virtually no public profile, Kim cites such relatively highbrow influences as Jane Campion, Krzysztof Kieslowski and Luis Buñuel. But Never Forever (which premiered last year at Sundance and then at Cannes) is in no way a cold-blooded intellectual exercise. It's a steamy, erotic tale, and clearly the work of someone who loves movies, especially movies with doomed, damaged, self-sacrificing, lovelorn heroines.
In this case, Kim gets a shattering star turn out of Vera Farmiga, who has long been a distinctive character actress (in "The Departed," "Breaking and Entering" and many other film and TV appearances), but whose odd, awkward beauty isn't quite right for Hollywood. Farmiga plays Sophie Lee, a New York suburban housewife who tumbles into a steamy liaison with a devastatingly handsome Korean immigrant named Jihah (Ha Jung-woo), who works in a Chinatown laundry. Actually, Sophie pays Jihah to have sex with her on the pilled-up blanket of his ramshackle Manhattan apartment, at $300 a pop. If that doesn't sound like much to Eliot Spitzer, it's still a pretty good hourly rate compared to delivering starched shirt.
No, Sophie isn't devastatingly horny, or at least she doesn't think she is. And if she has a fetish for Asian guys, that's already in play: Her husband, Andrew (David Lee McInnis), is a dashing and successful Korean-American attorney, and there's no suggestion that she doesn't love him. In fact, she's getting down with Jihah because she loves Andrew. For unspecified medical reasons, Andrew and Sophie can't conceive a child, and beneath his stylish surface Andrew is sinking into suicidal depression. Sophie has chosen a more scientifically plausible path to pregnancy than her pious mother-in-law's advice, which is to pray fervently for 40 days. (Korean readers, I have a question: What's with the evangelical Christianity? Every other Asian country, pretty much, has stuck with the existing array of Eastern religions. Why was Korea such fertile ground for Jesus?
Big-eyed and long-shanked, Farmiga displays tremendous emotional nakedness (along with the other kind) as a woman who thinks she knows exactly what she wants and then finds the unexpected force of desire tearing off her skin like an existential can opener. She doesn't want to enjoy sex with Jihah, and she keeps up the façade that it's a painful and unpleasant chore as long as she can manage to. Kim and cinematographer Matthew Clark linger on her face and her form, and what they capture is an anguished, screen-dominating performance partway between Greta Garbo and a wounded deer. Andrew and Jihah are necessarily more in the background, and are closer to being love-triangle archetypes, but neither is a cartoon (and female viewers, I imagine, will find both the James Dean-esque Ha and the model-suave Lee easy on the eyes).What holds together the pulp of this torn-between-two-lovers fantasy is a restrained and elegant cinematic aesthetic. Kim tells her story both passionately and economically, balancing light and dark -- the portrayal of Andrew's repressed, religious family is both comic and terrifying -- with nary a shot wasted. Although the whole movie's shot through with issues of class and race, Kim never feels the need to drag them to the surface (which only increases their potency). One scene between Sophie and Jihah descends into treacly sweetness, but that was the only moment where I felt Kim placing self-conscious quotation marks around her genre material. As New Yorkers will note, the film is geographically incoherent: Where in leafy suburbia does this couple live, such that they drive through lower Manhattan on their way to church? There's also an improbable pileup of coincidences toward the end of the film, although I think Kim redeems it with her delicate and mysterious conclusion.
Like Kim's last film, the 2003 Invisible Light, Never Forever is a Korean-American co-production designed to appeal to audiences in both countries. (It opened in South Korea last year.) Acclaimed Korean director Lee Chang-dong is one of Kim's producers, and their artistic terrain clearly overlaps. Instead of producing a trans-oceanic mishmash, Kim has made a strange and distinctive new American film. Hardly anyone here will notice, at least this time. But keep your eye on Gina Kim.
—Andrew O'Hehir (April 10, 2008)

San Francisco Chronicle
Vera Farmiga is the best American actress you've never heard of. She was slightly more than window dressing as the only woman in "The Departed," but she turned in one of the decade's best performances as a recovering addict in "Down to the Bone" and tears into the meaty role provided for her by writer-director Gina Kim in Never Forever.
Set in New York, the film stars Farmiga as Sophie, a white woman married to Andrew (David L. McInnis), a Korean American businessman who might or might not be infertile. After Andrew's father dies, he becomes suicidal because he has not been able to have children, and he's under familial pressure to do so.
Sophie's choice: to get pregnant with the help of an illegal Korean immigrant (South Korean star Jung-Woo Ha) and pass the child off as her husband's, thus saving their marriage. The sex is graphic; at times uncomfortable, at times thrilling. What could have been soap opera is instead thoughtfully and subtly presented by Kim, a bold storyteller who drew notice with a festival favorite, "Invisible Light," in 2004. Korean-born, New York-based and a former Harvard professor to boot, Kim is a filmmaker who shouldn't just be on the rise but shooting through the film world's glass ceiling.
—G. Allen Johnson (April 12, 2008)

Les Inrockuptibles
Those who like melodramas will be pleased with Never Forever, the second film by Gina Kim. The subject is worthy of Douglas Sirk: in New York, an American thirty-something woman whose rich Korean husband can't impregnate her has to find a way to make a child for him and she secretly employs the services of an illegal Korean immigrant to become pregnant. The beauty of physical relationships, emotional violence and sense of displacement (in terms of identity, geography, and sensuality) are all explored: if Gina Kim had given in to the temptation to over-dramatize the script, this film would have been an overwrought melodrama. Instead, Never Forever is very moving in its simplicity.
—Translated from French, Olivier Joyard (February 2007)

The Philadelphia Inquirer
Anchored by another intense-o performance from the indie actress Vera Farmiga, Never Forever is a compelling cross-cultural romantic melodrama that asks the question: Is paying a stranger to impregnate you really an act of love toward your sterile husband - who desperately wants a baby - or a sign of deep-seated marital doubt?
That's quite a question, and Never Forever is quite a movie - fevered, erotic, outlandish. Farmiga stars as Sophie, the blond, blue-eyed wife of a successful Korean American businessman (David McInnis). The couple live in plush digs just outside New York City and seem to have everything - except a child. Spurred by the prayers of Sophie's mother-in-law and the family's Christian Korean priest - and by an act of profound despair on the part of Sophie's husband - Sophie takes the extreme, and stalker-ish, step of meeting with a would-be sperm donor she had encountered by chance at her fertility clinic.
Jihah (Ha Jung-Woo) is an undocumented Korean living in New York's Chinatown - working at a dry-cleaner and a butcher, and scavenging furniture off the street. After following him home, Sophie makes this handsome, taciturn man a proposal: I'll pay you $300 every time we have sex. If I become pregnant, I will give you $30,000.
The deal is a go. So Sophie and Jihah meet, and copulate, in his walk-up apartment. And the relationship, inevitably, starts to change. Sophie finds safe harbor from her loneliness and longings, staring deeply into the eyes of this other man. And Jihah's sexual and fiduciary needs are subsumed by something new: love.
The work of South Korean filmmaker Gina Kim, Never Forever has the steaminess of pulp and the stateliness of art. Michael Nyman's elegant chamber score provides an undercurrent of restraint and suspense, Mathew Clark's cinematography is crisp and clean, and Farmiga and Ha bring scary commitment to a scenario that could have simply been cheap, and exploitative.
In the end, Kim adds a scene that's too Hollywood by half, but at the same time, it's an understandable choice. The filmmaker, like the audience, has grown to care for these characters with a force that surprises.
—Steven Rea (May 2, 2008)

Box Office Magazine
Sophie (Farmiga) is the white wife of affluent Korean attorney Andrew (David McInnis). We meet the couple on the day of Andrew's father's funeral. Afterwards, Andrew grows despondent and repeatedly attempts to take his own life. As the couple struggles with infertility, Sophie's only power in stopping her husband's suicidal tendencies is to find a way to conceive which, with Andrew's sperm, is a nearly impossible feat. In fear for what her husband might do, she finds a Korean man who resembles Andrew and propositions him with "a job" for which she'll pay and they'll both keep secret. The reward for impregnating her is handsome, and Jihah (Jung-Woo Ha) needs the money, but along the way the two find themselves with similar senses of estrangement. Far from his home in Korea, Jihah is not given many opportunities and, diligent as he is, few reach out to help him without a green card. In part due to a language barrier, they speak little, and their congress is at first demoralizing and almost painful to watch. What's particularly compelling about the transition from businesslike exchange to fully-fledged affair is that it is all as underplayed as the rejections the two of them suffer from those whom they need most. A particularly impressive scene on the stairs of Sophie's home will last in memory for some time.
Direction by Gina Kim is often impressive and subtle. Frequently she frames Farmiga in the bottom of frame, obscured completely but for her eyes, and the sense of solitude that seems to come from this union of actress and director is quite noteworthy. The only detrimental aspect appears in the overuse of Michael Nyman's genuinely magnificent score. As usual, the music is beautiful, but it collides with the film's subtleties and so stands out, making it seem less a part of the film and more like an obstacle in the way of our viewing. Ultimately, though, Never Forever is a beautiful and insightful picture.
—Sara Schieron (April 10, 2008)

FilmThreat.com
How far would you go to make the ones you love happy? And if you have passed the point of no return, was it really worth going the distance? Never Forever asks just these questions as one woman desperately tries to make her husband and his extended family happy by having a child. Beautifully shot and acted, with a heartbreaking story, Never Forever is worth the effort it would take to catch a screening.
Sophie (Vera Farmiga) is a Caucasian woman who has married into a large, very religious Korean family. She herself is not at all religious but she loves her husband Andrew (David McInnis) and she soon feels the pressure from his family to conceive a child. When Andrew tries to kill himself after he and his wife fail at getting pregnant, Sophie makes a desperate attempt to find a way. She meets Jihah Kim (Jun-Woo Ha), an illegal immigrant from Korea (who cannot donate sperm due to his illegal status) and hires him to sleep with her. Very quickly, however, the arrangement starts to ruin the relationship between Andrew and Sophie.
It is to be commended that this film is crafted in such an amazing way and it is hard to believe that it is considered an independent film, since it is so competently polished. Subject-wise, filmmaker Gina Kim doesn't pull any punches when telling this raw heartbreaking story of one woman's last ditch effort to make the people in her life happy.
Vera Farmiga wowed audiences in her role of Martin Scorseses's film "The Departed" and it is safe to say that she equates her self well in this role. To be honest, all I really had to see was her piercing blue eyes and I was sold, but she is such an amazing actress and she delivers such a wonderful performance that I was even more satisfied with it all.
The film is engaging, and though it was quite depressing to see one woman bend to others' values, it is a worthwhile indie endeavor. Both the acting and the excellent story make this an unforgettable film.
—Zack Haddad (January 24, 2007)

Sundance Festival
Sophie seems to have an idyllic life; she 's the perfect Caucasian housewife for Andrew, her successful Asian American husband. Their relationship is put to the test, though, when she can't conceive a child. To save her marriage, Sophie does something desperate. She initiates a bold and clandestine ventre with Jihah, an illegal immigrant from Korea. Sophie soon finds this new arrangement spiraling into a situation that may actually destroy what it was meant to liberate.
In Never Forever, writer/director Gina Kim arranges every shot with a calculating eye, building a step-by-step urgency. Her story is rich and her filmmaking lean and precise. Kim creates the perfect tone, right down to a climate of extreme repression where the sexual energy is nearly combustible. The insightful art direction and costume design are marvelously refined for an independent film. And Vera Farmiga's incredible performance as Sophie is a true gift. Her ethereal beauty-crystal blue eyes and porcelain skin-gives her the appearance of a rare doll, which isn't too fat from the pampered existence she represents. As the perfect counterpart of two gifted leading men, her mastery of Sophie's gradual transformation makes Never Forever an unforgettable cinematic experience.
—John Cooper (January 2007)